Back in May, I signed up to be a blog angel.
You can read a little more about it
here
.
It basically means that for the month of June, I was a secret "angel" to a fellow blogger.
And that fellow blogger was...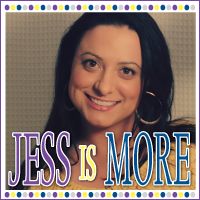 Jess @ Jess is More!
Kinda ironic given the name of my blog, huh?
Anyway, I have to admit, I kinda sucked at being an angel.
But I promise I tried!

Besides the fact that we both have a super awesome name, it was hard for me to find ways to relate to Jess.

Jess is awesome in the kitchen.
My kitchen hates me. (or maybe I just hate my kitchen.)

Jess is all about eating right, losing weight, and working out.
I am lazy and eat junk food.

Jess has been blogging about her wedding planning experiences.
I absolutely HATED planning our wedding.
I'm going to stop with the list now because Jess is sounding a lot cooler than me.
But there was one thing that Jess writes about that I can definitely relate to.
Lily!
Lily is her dog, who she loves. And obviously, I'm completely in love with my dog, Duke.
Jess has a series going on called "What Lily Ate Wednesday". It's pretty awesome (and sometimes scary).
You should check it out.
Jess was awesome enough to let me guest post for her
here
.
And I even made one of her
delicious recipes
!
Ok, I didn't really make it- my husband did. You can read about that
here
.
Andddd we're swap buddies for July which I'm pretty excited about :)
Overall, this was a really great experience.
I'm so grateful that I was paired with someone that I didn't know much about. it gave me a chance to learn - a lot.
Thanks for that, Jess! I hope I didn't suck too bad!
P.S. Did I say "Jess" enough times in this post? It's an awesome kind of weirdness to call someone else that name :)
Linking up here!