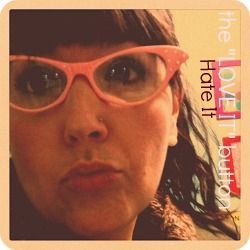 LOVE: Living in Hawaii.
HATE: Not living in Texas.
LOVE: Comments from readers!
LOVE: Watching football! Even if it's teams that I'm not a fan of- I love watching.
HATE: When guys think that I'm not a real football fan and/or don't know anything about the sport because I'm a girl!
LOVE: Tequila.
LOVE: The beach, the pool, being in the water.
HATE: That I never feel content and confident in a bikini.
LOVE: Food. All of it.
HATE: Cooking. And that I suck at it.
LOVE: Blogging.
HATE: That my blog is such a mess right now! I can't wait until the new design is finished!
LOVE: Coffee.
HATE: Coffee breath.
LOVE: The smell of cigarette smoke. (and I don't smoke..weird, I know.)
HATE: The smell of cigarette breath and the smell of cigarettes on clothes or in homes.
LOVE:
Tex-Mex
.
HATE: That we can't find any good Mexican food in Hawaii! :(
What do you love and hate?