I was born exactly 26 years ago. Which means that today marks my entrance into "late twenties". Sounds gross. I cried a year ago when I reached a quarter of a century. But I don't think I'll cry today. I think I've accepted the fact that I have to be a grown up (yes, I still struggle with admitting that.). This doesn't mean that I like it though. At least not all of the time. I've been trying to embrace getting older and one of the ways that I do that is by remembering the things that I've learned.. as small or big as they may be, I'm grateful to have learned them now instead of waiting until another quarter of a century passes by.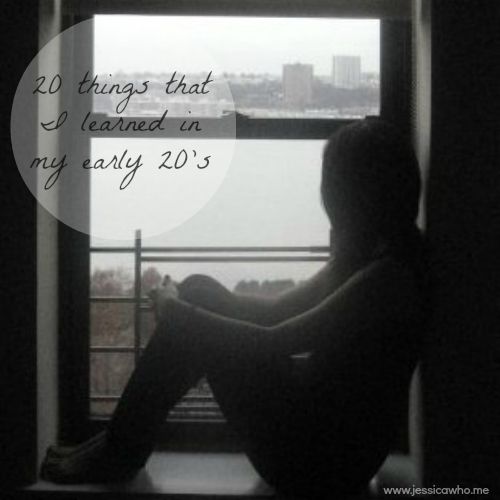 So here are 20 things that I learned in my early 20's - in no particular order ---
1.
Home is not a place - it's a feeling.
I love NYC. LOVE it! But when I lived there, I never once felt like I was "home". When I got my first place on my own in Houston, I loved it. But I didn't feel "home". The first year of living in Hawaii with Jared didn't feel like home. Probably because I was so wrapped up in feeling homesick. But eventually, we made a home here. Just being with him (and Duke) feels like home. I hope we take that with us wherever life takes us.
2.
You don't have to have kids immediately after marriage.
One of the scary parts of getting married was that I thought it meant that babies automatically start popping out of you. FYI- that's not the case. And although once you tie the knot you usually get asked everyday about when you're going to have kids, there's no law that says that you have to. Do it on your own terms!
3.
Shaping and filling your eyebrows will upgrade your face.
Seriously guys, I can't believe how long I lived life without using any sort of brow makeup. It makes such a difference! Especially in photos!
4.
Maybelline's "The Falsies" mascara is the only thing that will hold my lashes up.
I have really long lashes. It's a blessing and I'm grateful! But the problem is that I could never find a mascara that held a curl and kept them up! It took me 25 years to finally find the mascara that was made for me.
More about my lashes and this product here.
5.
Don't judge people who are in a situation that you've never been in.
You know that girl who is in a horrible relationship that she keeps going back to? I judged her, until I became one and realized how hard it was. You know those people who treat their dogs like humans? I made fun of them.. and now I'm one of them. You can't possible understand someone's situation unless you've experienced it.
6.
Getting out of your hometown bubble - even if it's just for a little bit - is so good for your soul.
There's nothing wrong with living in your hometown. For those of you who have never left it, hear me out. There is SO much out there. Too much to even explain to you. Even if you move somewhere else in the same state for a while, or just go on a little trip somewhere far away, I promise it will be worth it. I promise that you'll learn more about this world and more about yourself. It's amazing what a change of environment can do to someone's life. And if nothing else, you'll appreciate where you came from.
7.
Time really does go by faster as you get older - and when you're having fun.
I remember hearing older people say this when I was younger and thinking they were crazy because all I could think about was when school would be out for summer and that seemed forever away. But now... I swear that 2013 started yesterday. And that I graduated from high school last month. Where the hell does the time go? And why is it going by faster? Maybe it goes by faster with age because we start losing our memory (and our mind) but let's just say that it's because we're having so much freaking fun.
8.
Dress like the person that you want to be viewed as.
This applies to many different people. I know girls who wear dresses that barely cover their ass and then complain when someone pinches it. I'm not saying that it's ok to pinch someone's butt. I'm saying that you shouldn't be surprised when it happens. Dress like a slut, expect to be treated like a slut. Dress like a CEO, and be treated with respect, even if you're an assistant. I don't agree that people should be treated based on their appearance but it's reality.
9.
If someone asks if you "like to party", it may be code for something else.
True story: I was once at a bar with some friends. A guy asked if I liked to party. I said "Yeaaaa! Of course I do!". I was totally clueless of what he actually meant. One of my girlfriends pulled me aside and told me that he was actually asking me if I wanted to do cocaine. Ummm what?! Apparently I'm not down with the drug world lingo. And just so we're clear - I do NOT like to "party".
10.
Hookah is just as bad as cigarettes.
I actually don't mind the smell of smoke and enjoy the feeling of it. But I don't smoke cigarettes and I don't do drugs, so I thought it'd be a cool idea to buy a hookah for our house. For those who don't know - hookah is basically a device used to smoke flavored tobacco, completely legal, and doesn't impair your judgement or anything like that. So anyway we got one and I was so excited! It was fun to have friends over and relax around the hookah. I guess I'm just naive because when I finally decided to look up more details about this flavored tobacco, I realized that it was basically the same as smoking cigarettes! I was pretty bummed and haven't touched it since.
11.
Once in a while you will meet a good guy at a bar, but most most of the time, you won't.
I actually had a serious relationship with a guy who I met at a bar so he's one of the exceptions to this rule. But generally, you shouldn't expect to meet a vegetarian at a steak house. Ya feel me?
12.
Money isn't everything but it sure does help.
Can I get an amen? I think I'm pretty grounded when it comes to money. At least I thought I was. When I quit my full-time corporate job to work independently as a consultant, I had to deal with a decrease in income. For the first time in a while I had to pay close attention to what I was spending and how I was spending it. There's a saying - "Money isn't everything until you don't have it"... or something like that. It was a reality check. And I needed it.
13.
Skinny is not the same thing as fit.
I wouldn't consider myself either one of them and the shallow part of me would be thrilled to be either one. But if I had to choose, it would be fit. I know plenty of girls who are not a size zero but are damn sexy. And I'd rather take fitness advice from a girl who actually has to work for her body versus a girl who is skin and bones and wouldn't put on any weight if she sat on the couch all day.
14.
Just because it's made in your size, does not mean that you should wear it.
So speaking of being skinny, a lot of people tell me that I'm small or skinny, or companies want to send me a size small, especially those of you who haven't met me in real life. Y'all haven't seen me in a bikini. I definitely have some junk in my trunk (among other places) and I think the key is how you disguise it. Sure I can fit into a size small, but that doesn't mean it looks flattering on me. I won't wear something that I don't feel comfortable in and that includes clothing that hugs in all the wrong places.
15.
A job is not the same thing as a career.
Going to work everyday just to get a paycheck doesn't qualify as a career. I didn't completely realize this until I got my first job in an industry that I had interest in, doing something that I actually enjoyed. A career is a lifestyle with an end-game.
16.
Letting go is hard but it feels so much better than hanging on.
Geez, I wish I'd always known this one. I still have to remind myself of it. "Holding onto anger is like drinking poison and expecting the other person to die." I remind myself of that quote too.
17.
Marriage is not something that you should rush into.
For those of you who know
our love story
, this may be a bit of a shocker. The thing is, Jared and I got really REALLY lucky. Marriage is forever. Take the time to do your research,
look past the butterflies
, and be ready to give yourself completely.
18.
Hangovers do not get better or easier.
I used to pre-game with two bottles of wine. Now I'm passed out by the time I can polish a bottle. Partying like an 18 year old is not cute at my age, at least not for me. And on the nights that I forget that, the mornings after remind me.
19.
There are good guys out there.
There really are, I promise! Just like there are good girls out there. Sometimes you have to look a little harder but they're there. Revaluate yourself and find out if you're the problem. When I was single I realized that I was constantly putting myself in relationships that I knew wouldn't work out, just because I wanted someone, anyone, even if they weren't right.
20.
Just because someone is a good guy, doesn't mean that he's the right guy.
I wish I realized this one a long time ago. It would have saved a lot of heartache. I've dated some great guys. I mean really great. But the chemistry just wasn't there. But I hung on anyway and was determined to make things work because I was afraid that another good one wouldn't come along. Thank God, one did.
Have you lived through your early twenties? What did you learn?
And for those of you who aren't there yet, or are going through them now, take it from an old chick ;) and read through this!